EVO 2018 has come to a close again and with it, some of the best fights we've seen in gaming. If you were able to watch the stream on Sunday, you got to see some top quality skirmishes among the world's best. While we all got to enjoy the fights, there were just as many who were watching for some big fighting game announcements. In case you didn't get the chance to watch all the Top 8 action in all the games, here is a quick recap of all the announcements.
Blazblue Cross Tag Battle Final Set of DLC characters and a 5th Series
At the end of the Blazblue Cros Tag Battle Top 8, a new trailer came out to showcase the last set of characters coming tomorrow.
From Blazblue, we have Izayoi, Mai Natsume, and Nine the Phantom. Persona 4 Arena will bring Akihiko, Mitsuru, and Labrys to the fight. And finally, Under Night will give us Mika, Yuzuriha, and Merkava. 9 Fighters in total from three series and they will come in both the Japanese dub and English dub. While that would mean that the game has reached its full roster, the trailer ended on an interesting note.
A new fate intertwines in the form of a fifth series coming soon. While we may not know what it could be initially, those who leaked the DLC characters also made note of a few interesting additions from Senran Kagura. Could it be that we will see some busty ninjas join Blazblue Cross Tag Battle soon? or was it a misdirection? We'll see what fate has in store for us.
Arc System Works announces World Tour
Arc System Works has made a big push this year for EVO and it will continue with the Arcrevo World Tour.
The tour will not only feature Guilty Gear Xrd and Blazblue Cross Tag Battle but will also have Blazblue Central Fiction.
They also dropped a slight teaser that  ___ is working on something "special" for Guilty Gear. Does this mean that a new character is coming soon? or perhaps we will see Guilty Gear Xrd Rev 3? Stay tuned.
Terry Bogard in Fighting Layer EX
Fighting EX Layer is out on the PS4 and Akira announced their upcoming plans for the game after their side tournament at EVO. This will include more fighters such as the dancer Pullum Purna and Vulcano Rosso. These characters will be joining the roster in the coming months. Along with the upcoming update, the game will also have an arcade mode too. As the trailer came to an end, we got one final reveal in the form of Fatal Fury's Terry Bogard. plenty of things to look forward to coming up.
Terry Bogard in… SNK Heroines?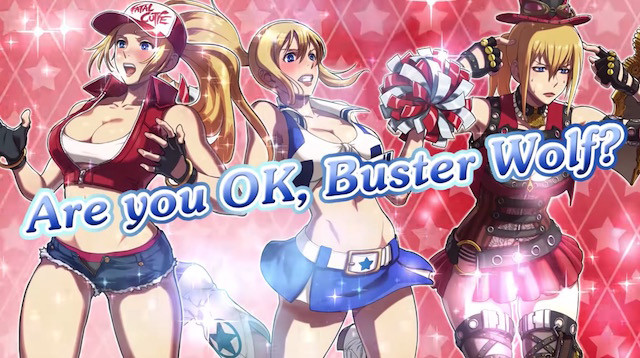 While this was announced before EVO, this is still hilarious to consider that it is worth noting again. Terry Bogard is probably the most well known of SNK characters and with the amount of games he is featured in, it seems that he is in everything. Ironically enough, you'd think that a tag team game featuring an all-female cast would be a problem, but not for Terry!
While we don't have any explanation how or why, Terry Bogard will be a playable character in SNK Heroines Tag Team Frenzy as a lady. Has Terry been turned into a woman by this game's antagonist? Or is this someone who is called Terry while not actually being Terry?
Smash Ultimate Getting a Direct this Wednesday
While many didn't think we would get any news on Smash Ultimate during EVO this year, they were both right and wrong. Nintendo has not been one to go too heavy into EVO for announcements, but we got the next best thing in the form of an upcoming Nintendo Direct focusing solely on Smash Ultimate on August 8 at 7 AM PST. Will we see other characters that have not been playable yet get covered? Will there be an open beta to test the game out for all Switch users? And most importantly of all: Will we get a new character announcement? Find out in just a few days.
Astraoth and Seong Mi-Na are coming back to Soul Calibur 6
Before the start of the Tekken Top 8, we got to see more returning characters coming back to Soul Calibur 6. The first character was Astaroth and his giant Axe. He is also looking rather intimidating with his armor as his playstyle is just as dangerous as ever. They could have ended it there, but they then showed off a second trailer showcasing the return of Seong Mi-Na.
We knew Astraroth was going to come back, Seong was missing from Soul Calibur V. It will be nice to see her back in action and see what these two will offer when Soul Calibur 6 comes out October 19.
Tekken 7 Announces Season 2 with Anna, Lei, and  Negan from Walking Dead
After the Tekken 7 Top 8, Harada came out to give the good news that Tekken 7 is indeed going to get more fighters joining the roster. Taking a page out of Street Fighter V, the next season of Tekken 7 will have six DLC fighters, with three of them revealed.
The first is Nina's crazy sister, Anna Williams who is also sporting her own fancy dress to do battle in. Next, the long requested Lei Wulong gets his chance to fight in the King of Iron Fist Tournament and is just as unpredictable as ever.
Finally, after revealing that we will see four more DLC characters, we zoomed into the last one which gave us the sound of a man whistling poorly. That is quickly backed up with the image of a man in a red scarf carrying a Barbed Wire Bat. Negan from the Walking Dead is coming to Tekken 7. It definitely will be fascinating to see what he will bring to the table and if his fighting style will revolve around the use of his bat.
Cooler Joins DragonBall FighterZ
Once the DragonBall FighterZ Top 8 came to an end, a trailer played to showcase the new upcoming fighters. It was a retelling of the Saiyan Saga that also had the base forms of Goku and Vegeta. The two will also share a dramatic finish that will recreate their beam struggle. As much fun as it was to reconfirm them as playable, there was a sudden interruption of a new character coming to the game: Frieza's older brother.
Cooler is coming to DragonBall FighterZ, and looks to be just as much of a brute as his Brother and just as cold as Frieza (no pun intended). For as great as it is for Cooler to join the roster, it did leave many scratching their heads as they usually announce DLC characters in pairs. And according to some leak lists, Android 17 was also going to join the roster but was nowhere to be seen. Will he join at a later time? Goku and Vegeta's base forms will join DBFZ later this month.
EVO Japan 2019 Dates Set
EVO will be returning to Japan February 15-17 next year at the Fukuoka Kokusai Center. While their games were not shown, you can expect some of Japan's finest to come out and show what they are capable of.
G and Sagat Join Street Fighter V. Tomorrow.
As Street Fighter V is seen as the Main Event of EVO, you can imagine that there was quite a bit to showcase. We knew that G and Sagat were coming to Street Fighter V, but we had little idea if Sagat was going to get a trailer tonight; let alone their release dates. As Ono begun, G himself stepped in to give an inspiring speech to the people of Earth before his trailer played.
While they could have put it to an end there, Ono came back on stage wearing an eyepatch (and his Blanka figurine too). The crowd knew exactly what it meant. While it is incredible that Capcom would show G and Sagat one after another, Capcom had one final surprise for the world: They are both coming out tomorrow. So if you have Street Fighter V and got the season 3 pack, you are about to get a whole bunch of good things coming your way.
So What Announcement Did You Like The Most?
Which Announcement did you not see coming? Can't wait for some of these things to happen soon? Stay tuned to Culture of Gaming as we cover more Fighting games and other things gaming.