With E3 one month away, we here at Culture of Gaming continue to turn our attention towards the Big Three and other gaming publishers. So far, we've covered the likes of Nintendo and Capcom, and today we turn our attention to Ubisoft. When we consider the streak that Ubisoft is on as of late, it is shocking to think of how far they've come. During last year's E3, many saw Ubisoft's conference as the best out of all for the games revealed and their upcoming lineup. From a tactical shooter featuring Mario and the Rabbids teaming up to the return of Beyond Good and Evil, Ubisoft had our attention from start to finish. So Ubisoft has quite the act to follow up.  The question is, how will they do it?
Ubisoft is in a good position going into 2018. Not only can they announce new games but also to follow up on announcements from last year too. For today's article, we will focus only on games that have yet to come out.  Still, we may get more details on Kingdom Battle, Rainbow Six: Siege, and even For Honor during the conference or during that week. So what games will Ubisoft focus on?  Let's look at their previews, shall we?
The Crew 2: By Land, Sea, or Air
With The Crew 2 coming out on June 29th, Ubisoft will probably devote at least one more trailer to it. Like its predecessor, the game will have a scaled down representation of the United States you can race in. It will also feature new kinds of racing to it, such as motorcycles, boats, and planes. There will be the freedom to do whatever you choose and won't force players into anything they don't want to do. So if they want to stay in the air, they can stay up there. The Crew 2 looks to take what made the first game fun and enhance on the original.
Skull & Bones: Oh, A Pirate's Life is a Wonderful Life…
Isn't it amazing to imagine the naval combat of Assassin's Creed IV: Black Flag can become its very own game? Developed by the Singapore team, the game sets players in the Indian Ocean as they take command of a pirate ship. You can either play in a solo adventure or in a six-player skirmish. There will be a wide variety of ships like frigates and sloop-of-wars and armaments like cannons and mortars to customize ships with. Skull & Bones may become the next big multi-player game like Rainbow Six: Siege and For Honor. We'll see if it can live up to expectations when we get more details on the game soon.
Starlink: Battle For Atlas: Spacelanders
While Skylanders has gone MIA for two years now, Ubisoft is still going forward with their game that turns toys into in-game ships. Battles in Starlink can happen both on planet level and in the far outreach of space. You can swap out parts on your ship during gameplay to fit the situation at hand, including pilots, weapon attachments, wings and the hull.  The story itself has you apart from a group of heroic interstellar pilots, dedicated to free the Atlas star system from an evil robotic force called the Forgotten Legends. This year, we may get more detail on how the gameplay could work, alongside with just what kind of variety of customization options we'll see.  Who knows if Starlink may try to hop on a train that departed a long time ago, but it would be nice to have a new space combat game.
Transference- Elijah Wood's Scary VR game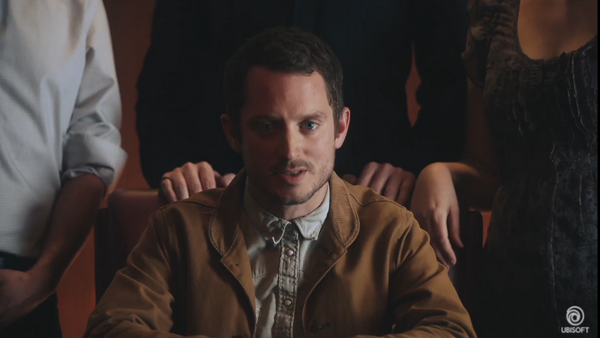 Next, we have the game that claims will "scare you out of playing on VR ever again." Transference is a multi-branching psychological thriller that follows the destructive tale of a man's obsession. You will explore his digitally recreated memories and unravel the mystery of a family as you navigate the dream-like home filled with secrets through the character-driven stories.  It is difficult to say how far the game has come since its announcement at last year's E3, but we could get more details on it soon.
Beyond Good and Evil 2: From A Caretaker Boar to a Wise-Cracking Monkey
Perhaps for highly requested games fans want to see, a sequel to Beyond Good and Evil ranks high on that list. So imagine last year you found that after almost 15 years, the sequel was happening at long last.  And then you find out that this sequel is a prequel and won't continue Jade's story. While fans split down the middle on the premise, there's no denying that we can't wait to see the return to Hillys. The more interesting thing to figure out will be how this game will tie into the original. Will being a sky pirate be more engaging than a photographer uncovering a conspiracy? With a promise of bigger and better things (alongside with confirmed co-op), look forward to seeing what Ubisoft has up their sleeves.
Avatar: Back to Pandora
So earlier this year, there was an actual announcement trailer on Avatar. While the 2009 game had a mixed-reception, James Cameron's fancy world grabbed everyone's attention (or at least those who saw the film). One special selling point of the previous game was how it was a third-person shooter or a third-person beat 'em up depending on which side you went with. While there isn't much to go off of for the newest game, the in-game engine is set to unleash the look and feel of the planet.  Check out the trailer if you haven't already since there's a good chance we'll be seeing more of it soon enough.
[youtube https://www.youtube.com/watch?v=RIH9CAco_F8]
The Next Assassin's Creed: Where do we go after Origins?
With any yearly release game, chances are we may see the next game in a long-running series.  While Ubisoft continues to adopt the "games as a service" mantra, we could move away from Egypt and Origins, and focus on the next chapter. As for if it will happen that is hard to say according to the rumor mill.  Depending on where you check, the next Assassin's Creed game will take place several locations. Either in Dynasty China, Feudal Japan, Ancient Greece, or none of the above as Origins will remain the focus through 2018. It wouldn't be the first time that Ubisoft skipped a new Assassin's Creed game as they skipped 2016 and had the movie in its place. Will we get the chance to explore another time and place? We'll find out next month.
Conclusion: A Repeat Performance Coming Soon?
There are plenty of games to look forward to with Ubisoft, and chances are that we only scratched the surface. The biggest concern one could have with their line up is that depending on what new announcements Ubisoft will make. Gamers want to see Ubisoft continue to roll out the hits. To do more than showcasing games and the ongoing support into the next year. There's nothing wrong with supporting the games out, but with E3, fans want to see what's new and not necessarily what "improvements" you're making. Let's cross our fingers that Ubisoft will be ready to go with their conference on Jun. 11, at 2 P.M. PST.
So what do you think? What games will Ubisoft announce? And what games do you hope to see from them that will get you excited?  Leave your thoughts down below and be sure to follow us here at Culture of Gaming as we continue to look at the various companies that will be at E3 2018.