Recently, Zelda Director Eiji Aonuma opened the flood gates after hinting at a possible Switch port of The Legend of Zelda: Skyward Sword. During an on-stage appearance at a Legend of Zelda concert, Aonuma openly stated "I know what you are thinking, Skyward Sword for Switch, right?" Since then, the internet has run wild with rumors and discussion on whether or not Nintendo has plans for a port of this Wii game.
After speaking to Eurogamer, a Nintendo spokesperson commented on the recent topic and said, "At this time we have no plans to release The Legend of Zelda: Skyward Sword on Nintendo Switch." While this statement seems to eliminate any further debate on the issue, we have seen instances where Nintendo claims to have no plans for a product… only to debut it later on.
Regardless of the validity of this statement, it makes perfect sense for Syward Sword to get some HD treatment. We've seen HD remasters of a majority of mainline Zelda titles, with Twilight Princess being the latest. That leaves Skyward Sword as next in line. Still, should Nintendo go forth with a Switch port, or will it end up costing them? Well, lets look further into the idea, shall we?
Why Nintendo Should Port Skyward Sword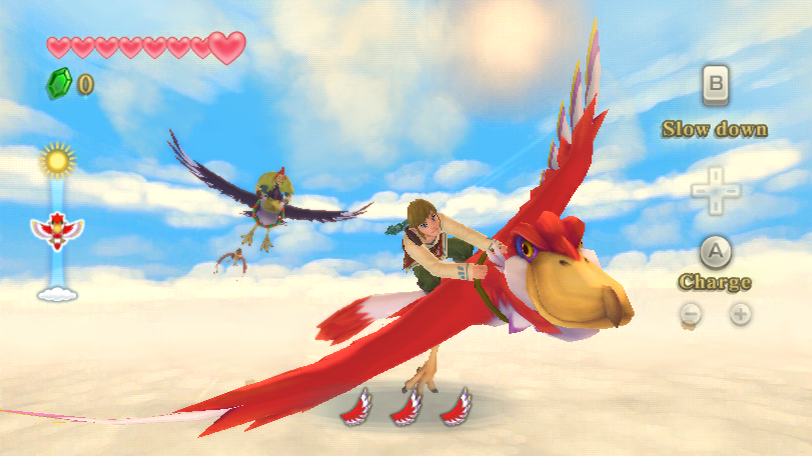 Nintendo is no stranger to remastering older Zelda titles. They've shown a consistent pattern of successfully taking older games in the series and converting them into HD masterpieces with amazing quality-of-life changes. Needless to say, Skyward Sword would likely follow suit if the developers were to go forward with the idea. Though this game released with mixed views, there are still plenty of fans that would gladly purchase it again. Skyward Sword had a beautiful story and wonderful characterization that pushed the game into the higher tier of Zelda installments. Add HD graphics into the mix, and you have a financial cash cow.
Since the game was originally released on the Wii, the visuals obviously had limitations at the time. This, however, did not stop the developers from making it gorgeous. Now, imagine how well the Nintendo Switch could improve on said beauty. The vibrant colors and open skies translated into a higher resolution, gorgeous 1080p would definitely draw in lovers of the game. Not to mention smoother frame rates and more detailed character models would be a plus. Take a look at Wind Waker. The game had both an impressive visual quality and a wonderful art style on the Game Cube, but its HD remaster on the Wii U proved that it could look even better. Zelda fans came in droves to experience this, and they were not disappointed. Skyward Sword has the potential to become one of the most good-looking Zelda ports yet, with help from new hardware.
Why Nintendo Shouldn't Port Skyward Sword
In all fairness, not everything about Skyward Sword screams "masterpiece". In fact, many would agree that one glaring issue comes to mind: the motion controls. Since the game released on the Wii, Nintendo felt it suitable to incorporate the system's signature motion controls into the mechanics of the game. Combat would involve the swinging of the Wii Remote and Nunchuks, which a lot of fans didn't approve of. Now, this feature alone shouldn't keep the game from gracing the Switch, but some tinkering should be done. Instead of eliminating motion controls all together, give players the option between that and classic button inputs. With how far technology has come since the Wii days, developers could probably work this in. If Nintendo does nothing about it, then they risk losing sales from those who disliked the game's motion controls.
Another issue that could cause some trouble revolves around the structure of the game's openness – or the lack thereof. Skyward Sword had a linear progression style, with a centralized hub world and several smaller areas surrounding it. After Breath of the Wild's giant open world, returning to such a  different approach to Hyrule could feel strange. Fans will probably want more freedom in the remaster, therefore the developers will likely have to fiddle with methods of making the game feel more open. Again, this alone shouldn't keep Nintendo from attempting a port. However, if left unchanged, the game might deter potential buyers riding on the wave of expansiveness from Breath of the Wild.
What are you're thoughts on an HD Skyward Sword port? Let us know in the comments below! If you want more Zelda content, check out our article on Half-life and Ocarina of Time, 20 Years Later, or take a look at 5 Great Games Coming Out This Month: December 2018. Otherwise, keep it on  Culture of Gaming for all things gaming!