We all have that one game that we desperately want to see added to the Nintendo Switch. The idea of taking games anywhere and playing whenever you want just makes purchasing them more and more appealing. With third-party games like DOOM and Skyrim receiving versions on Nintendo's newest console, there are still plenty of current and upcoming ones that would add to its library. Here are the top five third-party games that would great on the Nintendo Switch.
5. Monster Hunter World
It's no surprise that this game is in popular demand to be added to the Switch. The beautiful graphics and the amazing open world alone would appeal to anyone. Even I, someone who has never played a Monster Hunter game, would be willing to dive into this game if it has a Switch version. The whole idea of hunting giant monsters with friends anytime and anywhere would draw in so many more players to the franchise. The likeliness of this is slim however, since Capcom has made it clear that it would be difficult to port the game over to the system. Who knows, maybe the possible success of the upcoming Monster Hunter Generations Ultimate port will show that there is a fan base for these games on the Switch.
4. Persona 5
Considering Sony's stronghold on most of the Persona franchise, this one seems unlikely. Regardless, the anime-style artwork and the relationship mechanics within the game would be great to have on the Nintendo Switch. Not to mention, having the game portably would help with completing the game's long story. I personally feel that the Switch needs more games that focus on relationship building, so Persona 5 would be a no-brainer. That, along with the game's well-balance RPG elements and speedy gameplay, would draw in plenty of attention from Nintendo fans. With SEGA and Atlus considering moving the franchise to multiple platforms, maybe we'll see Persona 6 on the system someday.
3. Kingdom Hearts III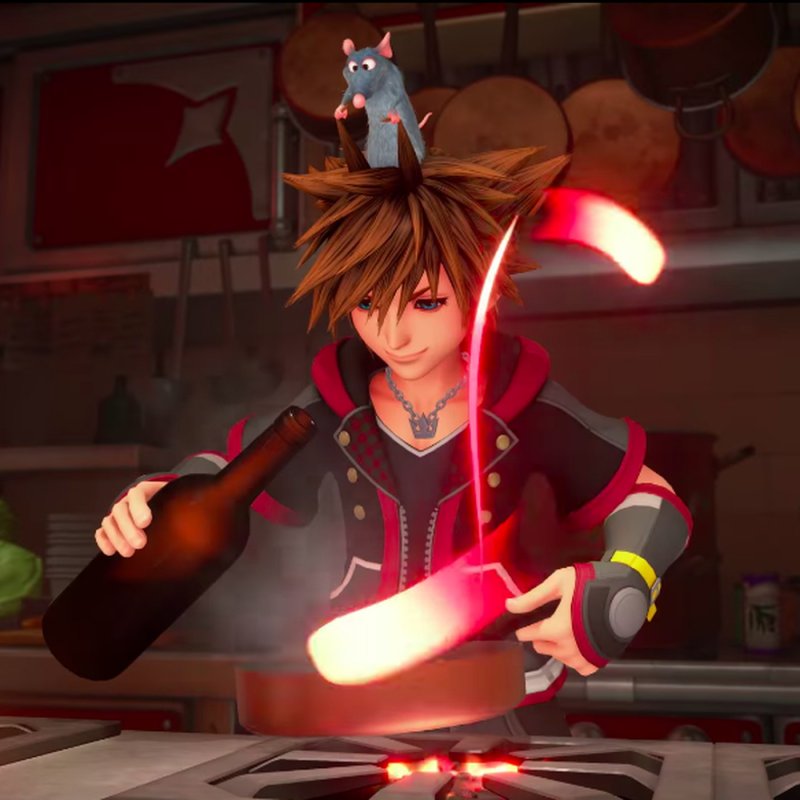 Square Enix and Nintendo have had an interesting history when it comes to Kingdom Hearts. While no numbered titles have appeared on a Nintendo console, some spin-offs like 358/2 Days and Dream Drop Distance have graced the DS and 3DS. It seems reasonable that both companies could work out an agreement to bring the upcoming Kingdom Hearts III to the Switch, as they've done with other titles. With that said, I can understand that the high-quality graphics could make it difficult to port, but it shouldn't be out of the question. There are plenty of series fans that would love to have this game portable, myself included. Though it seems less and less likely as the game's release date draws closer, maybe Square Enix would consider bringing a Switch version at a later date, similar to how Crash Bandicoot: N. Sane Trilogy came a year later to the system.
2. Assassin's Creed Odyssey
I actually don't know much about the Assassin's Creed franchise, but I do know one thing: people love it. It is one of Ubisoft's most successful franchises after all, with installments releasing on a regular basis. With that in mind, it makes sense to try to bring more fans in to sell more copies. How do you do that? Make a version for the Nintendo Switch. Nintendo gamers have had few chances to play the series, those being a couple of main series games and spin-offs. Adding the upcoming main series game to the already popular Switch would therefore be a logical step to take. New fans could enjoy the stunning graphics and gameplay, while veterans could enjoy the convenience of having it portable. Since Ubisoft and Nintendo seem to have a strong partnership, it isn't completely insane to see Assassin's Creed Odyssey on the Switch.
1. Resident Evil 2
Though it has recently been confirmed that Capcom has no plans on bringing the remake of Resident Evil 2 to the Nintendo Switch, it still would be a welcomed addition. The Switch could always use a big-name horror game to draw fans of the genre to the system. It would also give players an option to play the game anywhere, which is always a plus. The chances do seem slim since recent attempts to bring a cloud version of Resident Evil 7 didn't end well. Still, a good horror game is always a nice thing to have, and the quality of the Resident Evil franchise would likely solidify the purchase of a Switch to many hardcore shooter fans and horror junkies out there. Needless to say, the Switch would clearly bring in fans both new and old to play a visually gorgeous game such as this one.
What games do you want to see come to the Nintendo Switch? Let us know in the comments below!
Wanting to pick up the latest games at reduced prices? Or, are you wanting insane deals on most AAA and indie titles on PC? Well, we have you covered! Green Man Gaming is a great place for you to pick up the latest and greatest games, Currently, the summer sale is in full effect so go pick up any game for up to 90% off, right HERE!
Oscar is a writer for Culture of Gaming. He is an aspiring video game journalist that follows anything and everything Nintendo. His favorite franchises consist of Pokemon and Kingdom Hearts.