Is it weird to think out of all the horror games in recent memory, the one we seem to talk about focuses on killer animatronics possessed by dead children and purple people? As weird as it is to consider, there's no denying that the Five Nights at Freddy's series is nothing short of amazing considering we've seen seven games and three books written over the course of four years.
Scott Cawthon's popularity has risen since the release of the first FNAF game and there's no slowing him down with the various kinds of projects he has cooking. It's funny too since after Five Nights at Freddy's Ultimate Custom Night, the over-arching story has come to a close and there's really nothing left to tell. At least, that what we thought. Scott definitely has plans, and he has only just begun with his storytelling. So much so he recently posted on Steam about his upcoming projects that will arrive in 2019. Let's look and see at what he has in store for us next, shall we?
Rewriting of the Five Nights at Freddy's first movie
If there's one thing you can say about Scott, it's that he is keen on making sure the stories are good. It's one thing to have an exoskeleton wearing a fox outfit leaping at you while screaming, but the story kept many fans coming back to put the pieces together. With the Five Nights at Freddy's movie, Scott told readers he had gone back and wrote a new script after he completed one already. He said he is accepting responsibility for the delay and how it is his fault. Considering that this is effectively his project, it's understandable if he wants to make sure it meets the standards he has set over the years.
For those of us gamers who also enjoy a good film, you probably know games and films don't exactly mix well.  Even if you have the same guy who did the games also helping with the screenplay. Scott wants to make sure the film itself is perfect. Or as he said: "Either the right movie gets made or no movie gets made." A strong commitment that comes with the delay and one he isn't proud to admit. All that we know for sure is that the film will take place within the timeframe of the first three games in the series. Where that will be exactly is anyone guess, but it will be a fun time when we see that first teaser. Maybe in 2019, we might get to see a small taste of what that could be.
Augmenting Reality With Freddy and Other Game Updates
If you thought playing FNAF on your computer was scary, wait until Fazbear and Friends invade your other platforms. If you wanted to enjoy the FNAF games on home consoles or cellular devices, Scott said that he is working on this. Working with the people at Clickteam, plans are being made to create new and improved HD ports of the original games and have them spread to all major platforms, Android and iOS. He said that was 20% done so far, so who knows if he is planning on making a "Five Nights at Freddy's Collection."
In case if you wanted more excitement for your VR, Scott has also been working with Steel Wool to bring the VR experience to the FNAF games. One can only imagine how… delightful it will be to do things like repair Funtime Freddy up close and see if it will jump straight at you when it is in your face.  Good times I'm sure… He also said through the VR, you will get to see the classic band finally perform too. In case invading the Virtual reality wasn't scary enough, Freddy is also about to invade the Augmented Reality too. While it isn't as along as the VR title, Scott promises that the impending doom of something hunting you will keep you up at night.  Again, what Fun Times coming soon.
Finally, in terms of other planned games, we got a possible title for what may come next: Into Madness. Scott is planning on making this next game a compilation of several previous gameplay ideas. It will be free for the fanbase but is likely a way out from happening. We'll have to wait and see what this could possibly entail later.
                                                Let's Read With Freddy Fazbear!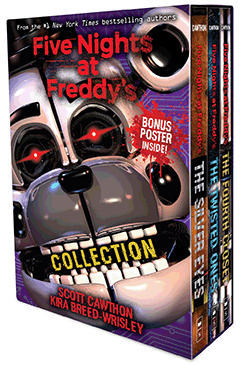 As funny as it is to keep talking about evil Chuck E. Cheese Robots killing people, apparently it makes for a good read for the kiddos too. Scott's books have been a big hit with Scholastic and a new line of books is on the way. These five books will be a collection of three short horror stories that will take play in the FNAF Universe. They will have unique characters and plot lines and some will be connected to the games while others will be their own thing. There isn't much else to say, but it is great to see his books did well enough to continue expanding the world of Five Nights at Freddy's.
Going AAA!
Just when you think it couldn't get any bigger for Scott, he shared the news that a big deal is in the works. While the details are still under wraps, the plan is to make a big-budget game, although it is hard to say if this will involve Five Nights at Freddy's or if this will be a brand new title. It likely will be the latter, but it will be fun to see what the result will be. It seems doubtful that we will see what this game will be for some time, but it will be fun to see that first trailer when it comes.
So what do you think?
Are you excited to see where the series will go from here? And what will we happen next from the world of Five Nights at Freddy's? Be sure to follow us here at Culture of Gaming for more upcoming news within the gaming world and perhaps more information on anything from Scott Cawthon.
Copyright secured by Digiprove © 2018