PS Now subscribers are used to not getting any announcements for their upcoming games in advance. So, unless things go wrong, we always have to wait until the first Tuesday of the month to know what new games are coming to the service. However, the positive side is we don't have to wait to play these new titles! Here's what PS Now is getting for the month of July. Also, remember that today is when this month's PS Plus games are available to download too!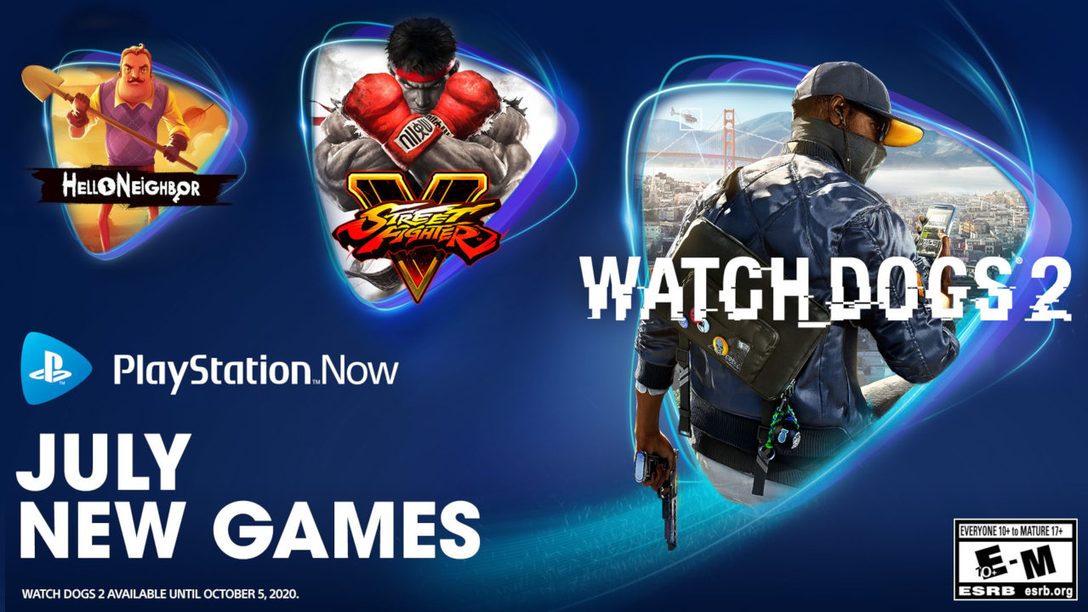 The Big Ones
As has been the trend since Sony started adding bigger titles to the service, we're getting two AAA games this month.
Watch Dogs 2 is the sequel to 2014 original, released in 2016. The game puts you in the role of a new protagonist in a fictional recreation of San Francisco. Controlling the hacker Marcus, you can explore the open world and use your hacking skills to take down the surveillance system ctOS. Play alone, in co-operative multiplayer, or in various competitive modes. Watch Dogs 2 will be available until October 5th.
Fighting fans rejoice as Street Fighter V enters the ring on PS Now. The latest entry in the decades old fighting game series had a rough launch. But, thanks to consistent updates, balancing, and additional content, has become a fan favorite. The base game has a roster of 16 fighters to take to the streets, with a whopping 24 more available through DLC. If you're craving a solid fighting to sink your teeth into, this is sure to satisfy that desire.
Incoming Indies
As part of the new PlayStation Indies Initiative, Shuhei Yoshida had some news for us PS Now players. Starting this month, one new indie game will come to the service every month. The first game to be featured is Hello Neighbor. This survival/stealth game has been around in early access for a while, but is finally making its console debut this month. Are you brave enough to sneak into your mysterious and terrifying neighbors elaborate home to find out what secrets he's hiding in his basement? With traps and puzzles, not to mention the neighbor himself searching for you, it won't be an easy task.
Leaving PS Now
If you haven't played it already, unfortunately you missed your chance to play Spider-Man. However, this amazing title, pardon the pun, is the only known title leaving the service this month. As always, make sure to note when big releases are added for a limited time.
What do you think of this month's lineup? Are you excited about the indies initiative on PS Now? How do you like the service as a whole? Comment below! Thanks for reading Culture of Gaming! Why not check us out on Twitter @thecognetwork or see the rest of our news here?