The 2018 chapter of E3 has come to a close, and we've turned our attention to the back half of the year, with a new wealth of information about some of the most highly anticipated upcoming games. The first 6 months have brought us plenty of standouts, with early GOTY contenders such as God of War and Monster Hunter: World releasing to critical and unprecedented commercial acclaim. However, the breakneck pace of modern classics released consistently throughout last year made early 2018 feel like a lull by comparison. But barring any delays, the rest of the year has the potential to stack up with some of the great years of recent memory. Trimming the list to just 5 was a task in and of itself, considering there are closer to 15 that I'm anticipating by years end.
5 – Octopath Traveler
Forgive me for stating the obvious, but the look of this game is incredible. There's been no shortage of uninspired games aiming for the retro style over the past decade. However, this game nails the look and feel flawlessly, while bringing plenty of new mechanics to the table. Blending turn-based combat similar to earlier Final Fantasy titles with a 2.5D storybook landscape, fans of old school JRPGs may have a hard time putting this one down. There's currently a 3 hour demo on Nintendo's eShop, so you can get a feel for the game before committing to what will likely be a 40+ hour adventure.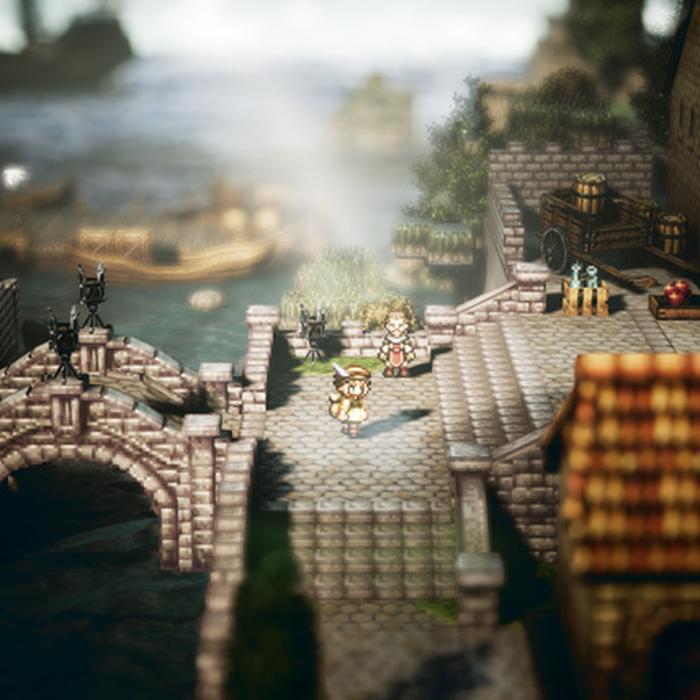 Octopath Traveler releases on July 13th, 2018, available on Nintendo Switch.
4 – Super Smash Bros. Ultimate
Following the surprise Smash reveal at the end of the March Nintendo Direct, many fans were left to speculate on whether this was going to be an all new entry, or a port of the Wii U game. But it's finally been confirmed: we're getting an all new Smash title for Switch, and easily the biggest one yet. There was no shortage of info on SSBU at E3. Even being a huge fan of the series myself, I'd had my fill about halfway through their presentation. Not from a lack of interest, but a desire to keep some things secret to discover while playing the game. I couldn't wait to see which surprise character was going to join the roster when playing through Melee back in the day. The fact that there are over 60 playable fighters is insane from a balancing standpoint; but most importantly, we finally got Ridley.
Super Smash Bros. Ultimate releases on December 7th, 2018, available on Nintendo Switch.

3 – Spider-Man
Insomniac Games are rebooting Spidey from the ground up. In the same vein as the Arkham games, this title aims to leave its imprint on what was generally an aimless gaming franchise. We weren't shown much during the initial years of development, but E3 brought a truckload of new material. It's going to be chock-full of classic Spiderman villains, as well as at least one newcomer. The combat also looks tight, and I get the impression that you'll have an array of options to deal with every flavor of bad guy. So much of the conversation has been about the new and improved web-swinging, and I can't wait to feel the adrenaline rush of flinging my way through a crowded NYC.
Spider-Man releases on September 7th, 2018, available on Playstation 4.
2 – Fallout 76
I'm not the first person to marvel at the feeling of stepping out of Vault 101 in the beginning of Fallout 3. The jarring perspective shift remains one of the iconic moments in the series. Fallout 76 looks to take us back in time, over 150 years before the events of 3. For me, the Fallout series has always been about the story, the world, and all of the strange characters and quests peppered throughout the wasteland. I'm immensely curious how these will transition into an online-only context. We've learned that this world will be roughly four times the size of Fallout 4, and will play host to dozens, not thousands, of players. But the world is bound to feel smaller when everyone has access to nuclear codes.
Fallout 76 releases on November 14th, 2018, available on Windows, Xbox One and Playstation 4.
1 – Red Dead Redemption 2
RDR2 had virtually no presence at E3, save for a couple of advertisements on the show floor. But if there's any company that has earned the right to do things at their own pace, it's Rockstar. Red Dead Redemption is on my short list of the most outstanding games of the previous generation. Some have expressed concern about the influence of modern online components (proven extremely profitable in GTAV Online) interfering with the core gameplay, but the trailers released so far have shown that they are still very much interested in crafting a narrative to stack up to the previous game.
Red Dead Redemption 2 releases on October 26th, 2018, available on Xbox One and Playstation 4
What do you think of our list? Which games are you most looking forward to in 2018? Let us know in the comments below!